Definitive removal

of localized fat without surgery
Biomium Clinic is the only center in Malaga with the new state-of-the-art CoolSculpting Elite® device that reduces localized fat forever in half the time. Reshape your body through cold.
We are the reference clinic in Andalusia, we receive many patients from Seville in our clinic in Alhaurin de la Torre (Malaga) who want to remove unwanted fat.
Coolsculpting ® is the only medical cryolipolysis that permanently eliminates fat in men and women.
Sometimes diet and exercise are not enough to eliminate localized fat from our body.
Coolsculpting is the best alternative to liposuction under medical supervision, non-invasive, non-surgical, risk-free, painless, with which you will achieve a noticeable and natural reduction of localized fat.
Freezes fat
CoolSculpting® is not a weight loss treatment. Cryolipolysis that targets and eliminates only fat cells.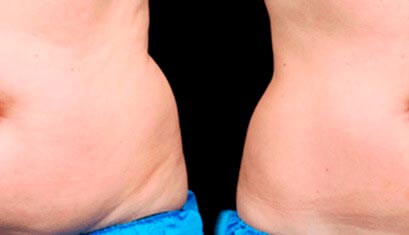 Eliminates localized fat
In the following weeks the body processes the adiposity naturally and gradually eliminates it through the urine for good.
Fast results
With a single application, you will be able to see the results of fat reduction after 3-4 weeks. The same day of the treatment you will be able to lead a normal life.
Before and after Coolsculpting ® COOLSCULPTING ELITE SEVILLA
Advantages of CoolSculpting Elite treatment
CoolSculpting offers a number of significant advantages over other methods of localized fat removal.
Say goodbye to localized fat in one session
These are some common questions to ask before going to the first consultation. The doctor will answer all your questions in the free session.